We hand milk and machine milk depending on the numbers. We make Chevíre, Ricotta and Mozzarella which we soak in olive oil and spices. Everyone loves it and of course we drink the milk which is the Best!!!! We are going to start making soap this fall and that should be fun. I got to show a little last year and met a lot of really nice people. This year I have been showing my own goats and doing pretty good. The kids we had were all so beautiful and I got to help deliver some of them. I don't know what part of owning a Nubian goat I love the most. I hope you really enjoy looking at my goats as much as I do. Please check back for my updates on whatís happening and Thank You for your interest in my goats.
Our Property and Herd have never had a case of CL. Our goats are CAE tested Twice Yearly with Vet Drawn Blood sent to Bio-Tracking for the cELISA test. Our last Negative Test was January 8, 2015.
2014 ADGA National Show

12th Place Dairy Herd
We attended the 2014 ADGA Nationals in Louisville, Kentucky and were so very happy with all our placings.
6th Place Yearling Milker - Jacobs Pride Some Like it Hot
11th Place Yearling Milker - Davis Run Status Delta Dawn
12th Place Dairy Herd
16th Place Jr. Kid - Lynnhaven KB Suri
12th Place Jr. Get of Sire - SG Kastdemur's Ain't He Amazin
13th Place Best 3 Jr. Does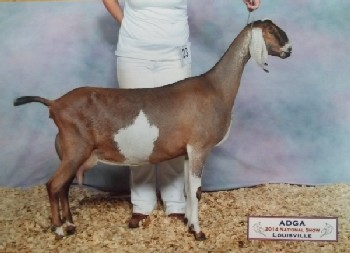 Jacobs Pride Some Like it Hot
6th Place Yearling Milker